Here you can find announcements about all the upcoming and exciting events at Truth Church.
Next Level is the program for understanding what to do next in your journey. God has a plan for every person. What is God's plan for your life? What steps can you take now? This is where you can find out!
recharge Leadership conference
Everyone is welcome! See you there!
February 11-13
Speakers:
Myles Young
Boston Young
Thomas Dehod
Andrew Bentley
FRIDAY
at 7:30 PM -
MYLES YOUNG
SATURDAY BREAKOUT SESSIONS
THOMAS DEHOD -
11:00-12:00 PM

ANDREW BENTLEY -
12:00-1:00 PM
SATURDAY
at 6:30 PM -
BOSTON YOUNG
SUNDAY
at 10:30 AM -
MYLES YOUNG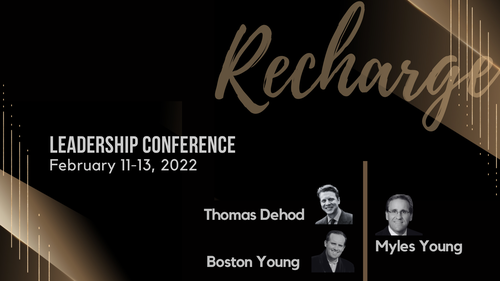 Hosted by The Rock Church in Elk Grove, California
March 2 - 4, 2022
Summit 2022 hosted by Cornerstone Church in Liberty Lake, Washington.
Mark your calendars April 6 - 8, 2022
Click the link below for more information.
Transition conference
may 25-27, 2022
THIS YEAR PEAK 2022 WILL BE HELD IN
HOUSTON, TEXAS
JULY 20 - 22
GEORGE R. BROWN CONVENTION CENTRE
CLICK THE LINK FOR MORE INFORMATION